Helicopters and Photography
I have to talk about the helicopters on my heli-hiking trip! The most expensive piece of photography equipment I have ever used!
Not only are the flights totally cool, with all sorts of views you'd never see anywhere else, the pilots, at least our pilot for the week, Jenz was just the most super cool dude you'd ever want to meet!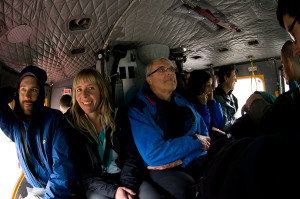 First we all piled in to be taken up to the lodge! If you're determined to take interior shots of the heli, use something like a 10.5 mm fisheye. It's not at all spacious, and it is dark – the 10.5 will be the perfect lens to capture the interior of yourhelicopter.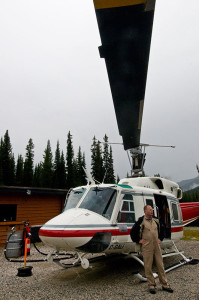 And here is Jenz giving us the full safety talk at the lodge. It's all about the Huddle! The safest place is where he is standing, thus the huddle, He will gently place the helicopter a foot or so from the huddle!  In this location there is less danger of the rotors meeting your head, as Jenz demonstrated here.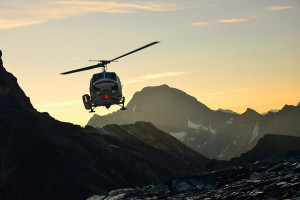 View from the shale ledge at sunrise, strangely named Powder Pig Peak. Our photography group was split into two groups so the helicopter made 2 trips to our locations. This allowed us to get amazing shots of the heli landing and taking off, the little iphone video below shows how cool this process is.
Watch the heli in action: