REGISTER NOW FOR 2014 On-line Digital Photography Classes,Workshops and Lessons.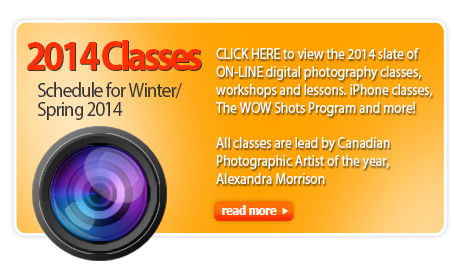 Hi everyone, I've got the new 2014 schedule of online digital photography classes in Winnipeg finalized – but you can take these courses from anywhere! Now all you need is an Internet connections and a computer.
My next online Winnipeg Photoshop lessons and photography classes start January 30, 2014. See them all here:

Yes, I still have in-person classes and workshops as well. Use the form on the right to be kept up to date on when the next workshops will be announced, and where they will be held.
In the meantime, if you're looking for photography classes in Winnipeg, taught by an award-winning AND accredited professional photographer I'd love to have you on board for the next online class!
NEW LAUNCHPAD SERIES
JUMP START YOUR PHOTOGRAPHY with The all NEW Photographer's Launch Pad Series is starting January 30, 2014, it's an all new online photography course – see more about this photo focused course here. And be sure to give me a call if you have any questions about photography classes or courses at all! No techno mumbo jumbo – just how to make great photos. You definitely won't have to embrace your inner nerd to enjoy and learn from these photography courses! LOL. Contains less than 1% of your daily requirement of computer talk!
PHOTOGRAPHY MENTORSHIPS
If you want customized photography classes designed for your specific goals, why not consider a nature photography mentorship – we'll work together to help you get where you want your images to go! It's fun and you get what you need when you want it. Find out more about nature photography mentorships today. I can only take a limited number, as you can imagine. But I would love to be able to help you, so let me know what you want to achieve and then we can talk more about whether a photography mentorship is right for you!