REGISTER NOW FOR 2013 Digital Photography Classes,Workshops and Lessons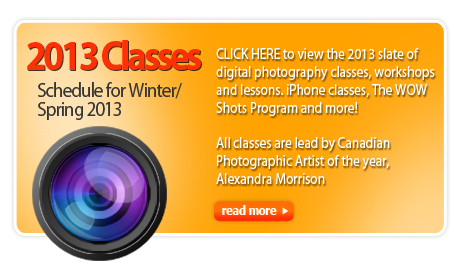 We're happy to announce our new schedule of digital photography classes in Winnipeg! Our new Winnipeg Photoshop lessons and photography classes start JANUARY 2013.
(Our new digital photography lessons in the Okanagan start soon!)
Whether you choose our weekend workshops that offer you an immersive photographic experience, or a one day photography class to jump start your talent, our unique photography classes in Winnipeg will inspire you.
With an abundance of pristine natural space within less than 2 hours drive from the major centre of Winnipeg, our weekend digital photography lessons and workshops bring you directly into the ecologically significant areas of Canada, as well as many endangered places.
And then you'll learn how to capture these breathtaking landscapes, species and spaces while taking your photographic skills and imagination to the next level.
Can you imagine the dark beauty of a tamarack bog, sunbeams streaming through to the spongy forest floor, spotlighting a rare and heart stoppingly beautify native orchid?
Feel your heart race as you spot one of only a few rare prairie fringed orchids, poking our from a vast field of prairie flowers; capturing its ephemeral beauty "on film" before it may vanish entirely from the landscape?
Our weekend workshops give you an abundance of creative shooting time to get your shot perfect, guided by our team of professional photographers and instructors. But it's not just about photography, you'll learn about the ecological significance and cultural heritage of some of North America's most threatened environments.
If you are registering for a one or two or multi-day photography program, you'll be sure to enjoy the fun and engaging atmosphere, in a friendly and collegial setting.
Now we're also offering photography bootcamps in the warm and sundrenched Okanagan Valley of BC (photo above). This is a brand new program, starting in July 2013.
GIVE A GIFT CERTIFICATE FOR PHOTOGRAPHERS for ANY OF OUR WORKSHOPS & CLASSES
---
OVERVIEW OF OUR CURRENT DIGITAL PHOTOGRAPHY CLASSES,WORKSHOPS, AND LESSONS AND COURSES
Upcoming digital photography lessons, workshops and Photoshop classes are listed here. Learn from the Canadian Photographic Artist of the Year, AND Manitoba Photographer of the Year, 2011- special techniques and award-winning secrets. See the schedule and register here.
a 2 day weekend boot-camp style workshop to really take your photos to the next level. Make WOW shots using any digital camera, no special knowledge or equipment needed.
2) NEW! We are now offering
private and semi-private Photoshop classes.
No more than 6 students per class for the semi-private lessons.
Work on your own laptop. Get the personal attention you need to get you over the creative hump.
By appointment only, book online here!
We provide you with a customized program to help you get where you need to go, or you can participate in our "out of the box" program, of 5 or 10 – 2 hour classes, depending on your needs and what you'd like to learn.
Call or email to get in on one of these tailored programs
3)

NEW!

By popular demand! DIGITAL INFRARED PHOTOGRAPHY MASTER CLASS Dates TBA, Summer classes only. Register opens February 1, 2013. Follow the link above.
4) NEW! The Romance of the exotic Okanagan Valley. Come and experience Canada's most photogenic region – the wine country of the Okanagan Valley in southern British Columbia. From desert sunsets, abundant wildlife, to tranquil lakes and hidden valleys, this part of the country has it all. DATES tba.

5) Intermediate Photoshop for Digital Artists & Creative Photography Photography Class Details here.
6) I will be conducting several iPhone photograph classes in 2013, ranging from the Basics to the Fine Art of iPhone Photography. Registrations for the Basics class open December 5, 2013.
GIVE A "GIFT CERTIFICATE FOR PHOTOGRAPHERS" for ANY OF OUR WORKSHOPS & CLASSES
Not ready to register yet – no worries, sign up below to be kept in the loop for future workshops.
"Thanks Alex. We are having such fun, learning so very much – thanks for the opportunity to participate in this digital photography workshop weekend!"
-Mary-Ann Schreiber, Winnipeg
"I've been photographing nature for many years, it's part of my job. And I spent a lot of time at the Delta Research Station also as part of my job! But Alex really opened my eyes! After the first day's session I was so much more confident in my ability to capture outstanding images, as well as understanding how to fix them if they weren't quite what I wanted. I highly recommend this course. – well worth the investment"
- Gene Fortney, Nature Conservancy of Canada, Winnipeg